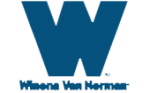 The Van Norman line of Flywheel grinders is manufactured in the USA by Irontite Products Inc. using the same tried and true methods that have been used since this model design came into being in the 1990's.
We take great pride in the design and finish of these machines. If properly maintained you will get many years of service with little or no trouble. Use and maintenance is very simple. The routine maintenance can be easily added to a building or machine maintenance schedule to insure your machine stays running at peak performance.
We proudly stand behind our machines and have a support staff ready to help with any issue that may arise. We have videos on how to properly set the machine up, how to grind a standard flywheel and how to grind a stepped flywheel.