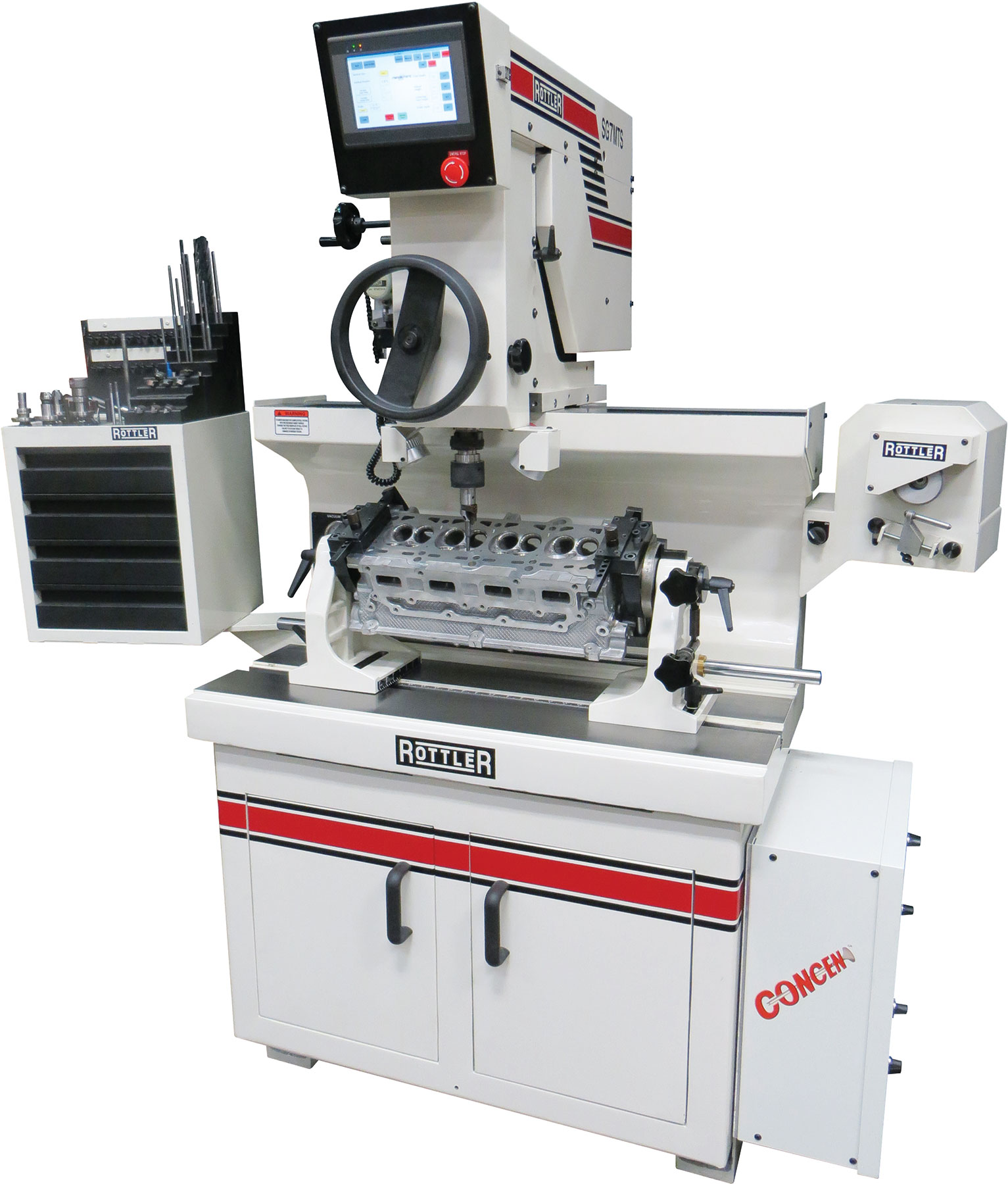 SG7MTS
SG7MTS MANUALMATIC Touch Screen Control Seat & Guide Machine
The SG7MTS uses the same proven fixed carbide pilot tooling as SG7M but now has a front mount steering wheel for spindle downfeed.
The machine have 2 modes of operation:
MANUALMATIC – a brand new concept has been added to these machines which should increase productivity by 30-50%. During seat cutting, the operator does not have to operate any buttons or switches, simply turn the spindle feed steering wheel up and down and the control takes care of all the functions like workhead float/clamp, pilot centering in the valve guide and spindle on/off. When depth of seat is reached, the control automatically changes spindle RPM to high/finish speed to give equal depth of every seat and consistent surface finish results.
MANUAL – the buttons on touch screen are the same as the previous SGM machines. There is no external dial gauge, the spindle vertical position is displayed on the touch screen. Simply feed the spindle down until the cutting insert touches the valve seat, touch set zero button and then the digital display will show exactly where the spindle is at all times. The change from low to high/finishing speed is easier as there are 2 separate buttons. The foot pedal for clamp and float of workhead has been eliminated and now controlled on touch screen for manual and automatically for MANUALMATIC.
The SG7MTS features Rottler's trademark CONCEN that guarantees you get the most accurate and versatile machine possible. Rottler combines precision carbide centering pilots with a light weight air float workhead to give you perfect centering with the valve guide – every time. This guarantees the best CONCEN of valve seat to valve guide centerline in the industry.
Request quote
Download PDF
Product movie
Characteristics
Concentricity - Rottler's Rigid Precision carbide centering pilots are manufactured to less than one tenth tolerance. Combined with the light weight air float workhead the SG7 gives perfect centering in the valve guide and the best concentricity of any machine on the market.
Built in Vacuum Tester for quick checking of valve seats before removing the cylinder head.
Storage Cabinet - Three drawers and top tray allows convenient storage of wide selection of tooling available from Rottler.
360 Degree Rollover Fixture - Provides quick loading and easy access to all sides of the head. Quickly levels head using the micro adjust feature. Fixture bolts down firmly with quick release handles. Clamps onto table firmly for chatter free cutting with extremely accurate concentricity. (Optional)
Rigid Machine Construction - Heavy thick wall cast iron machine castings and precision machining during the manufacturing process give excellent chatter free valve seat cutting. Heavy duty cabinet/base extended to the rear for safe handling when machine has to be moved. Recessed toe kick allows more comfortable machine operation.
Light Weight Workhead - The SG7 has a light weight workhead for extremely fast and accurate centering for the ultimate minimum concentricity. Outer spindle support bearings are adjustable over the whole length of the bearing area, similar to High Precision Boring Bar design.
Variable Speed Spindle from 40 to 400 rpm - Accurately select specific spindle speeds required for different machining operations. Soft touch buttons and bright digital display allow ease of operation.
Electronic Level - Digital readout for quick, accurate adjustment.
Depth Indicator - Shows the operator exactly how much has been removed from the seat assuring consistent seat depth. Also useful for installing seat rings, reducing valve guides, facing spring seats, etc.
Adjustable Depth Stop - helps to prevent errors due to over travel.
Dual Speed Spindle Feed - Large handwheel provides rapid feed and small handwheel allows precise fine feed control of the spindle. Very helpful when depth of cut must be maintained to extreme levels of accuracy.
15 Degrees Tilt - Spindle tilts up to 15 degrees from vertical in both directions , providing quick alignment on all canted valve cylinder heads. Cuts each seat to the exact same depth - a must for today's computer controlled engines.
Spindle Nut - Offers quick tooling change for a wide selection of tooling and spindle adapters.
Rottler Patented Tooling - Rottler's patented SG tooling totally eliminates any bounce springs. The quick change spherical spindle adapter allows different tool holders to be changed in a few seconds, change from multi angle seat cutting to pocket boring or reaming in just a few seconds! When the collar is moved down it aligns the tool holder vertically to allow the tool holder to be easily lowered down over the fixed pilot. While the tool holder is being lowered, the collar is lifted to release the sphere for precision centering and cutting. One hand pilot removal wrench allows fixed pilots to be moved from guide to guide - fast and easily.
Machineparts
Control: Automatic
Travel - Spindle: Nose to Table 473mm Spindle - Taper:  R30 Quick Change with Automatic Lock
Spindle - Diameter: 56mm
Spindle - Rotation Speed: 40 to 400 RPM Spindle - Motor: 0.56 Kw
Valve Seat Diameter Range: 14-76mm
Cylinder Head Dimensions (with 360 degree rollover fixture): 787L x 230W x 150Hmm
Cylinder Head Dimensions (with Diesel Fixture): 950L x 305Wmm
Spindle Travel/Stroke Vertical: 184mm
Workhead Travel Horizontal - Airfloat/Airclamp: 736mm
Workhead Travel In/Out - Airfloat/Airclamp: 54mm
Workhead Tilt (either side of vertical zero): 15 Degrees
Roll Fixture Movement In/Out with Clamp: 121mm
Dimensions - Machine: 813D x 965W x 1829mm H
Dimensions - Shipping: 940D x 1245W x 2108mm H
Machine Weight: 818 kg
Electrical Requirements: 208-240V, 15A, 50/60Hz, 1Ph
Air Requirements: l/min @ 6 bar
Paint Color Code: RAL9002 (Grey White)