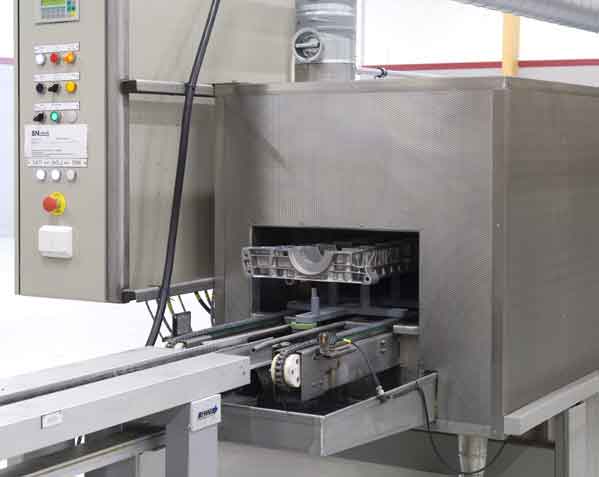 Tunnel Washing Machine VTT
This washing machine performs the washing process in a tunnel in 1-10 steps for a continuous washing of details in areas where high capacity is required. The machine is manufactured as standard in one or two-stage performance.
The tunnel washing machine may be equipped with different types of transport systems e.g. chain, mesh conveyor, stepping feeder etc.
Areas of use for tunnel washing machine
Cleaning
Degreasing
Phosphatising
Request quote
Download PDF
Characteristics
Standard equipment
stainless material on the inside -
machines designated (model)
B = belt conveyor designated C = conveyor designated K = chain conveyor designated R = roller conveyor designated S = "step loaded" conveyor designated W = walking beam conveyor
level regulation
pumps manufactured by Calpeda
operator panel on multi-stage machines
sedimentation plate above the electric elements
spare cartridge for fast replacement of elements
rotary slide valve on pump suction pipe