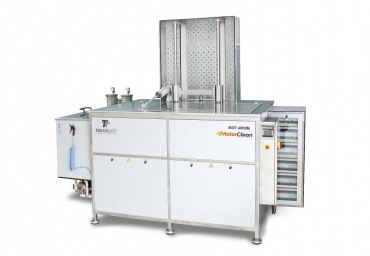 MOT-4000N
The Motor Clean series offers equipment and ultrasonic cleaning systems designed specially for professionals of the motoring world. The Motor Clean series covers the needs of all types of businesses within the motor industry, regardless of their size or specialisation, because it includes standard equipment that adapts to any piece, no matter its measurement (capacity from 30 to 8000 litres).
Request quote
Technical Data
Capacity: 4000 litres
Internal dimensions:  2400 x 1500 x 1260 mm.
Useful measurements: 2340 x 1320 x 880 mm.
Platform dimensions: 2340 x 1320 mm.
External dimensions: 2700 x 1920 x 1558 mm. (including auxiliary tank)
Weight: 2800 Kg.
Characteristics
ELECTRIC CHARACTERISTICS
Power Supply: 400V
Heating element: 24000W
ULTRASONIC CHARACTERISTICS
Ultrasonic power: 20400 W (40800 W p-p)
6 ultrasound generators with an output power of 3400 W (6800 W p-p) each
Working frequency: 40 KHz with a frequency Sweep System (Sweep System ± 2. 12 submersible emitters of 1700W each.
Machineparts
FINISHES AND ACCESSORIES
AISI 304 stainless steel tank, 2.5 mm thick.
K-Flex Duct Net thermal and acoustic insulation, 20 mm.
Exterior steel panelling with a special anti-fingerprint finish. Easy to clean.
Reinforced pneumatic platform for loading, packing and unloading with capacity for 2000 Kg.
1" water inlet valve and a 2" one for drainage.
Silentblock legs, adjustable in height
Heat-insulated stainless steel end-of-day lid.
Compressed air gun to dry parts. Integrated system to separate lubricants and oils. Removes residue from the surface of the ultrasound tank, keeping the cleaning equipment in perfect condition.
Sloping bottom to facilitate cleaning.
(Optional): filtering system (stainless steel filter with a polypropylene/polyester bag) for residue and mud.
(Optional): generator cabinet on an external electrical desk.
Control Panel
4.3" TFT LCF touch screen. Functional and intuitive; with access to select the time of the ultrasounds, temperature and peripherals or optional systems; and it is programmable on a weekly calendar.
PLC with a temperature model fitted with 7 outputs and 7 inputs.